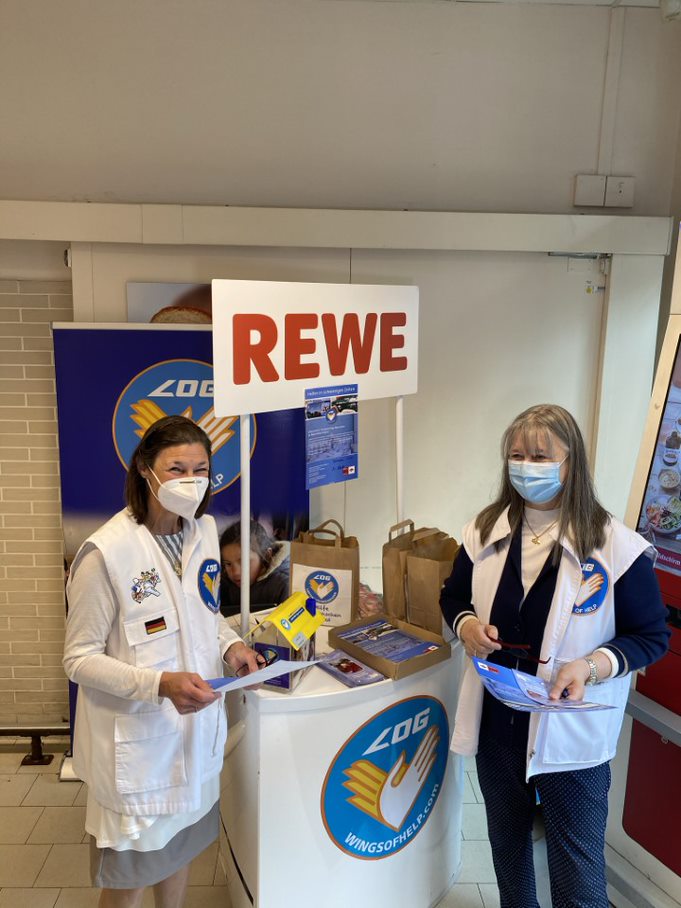 Hygiene bags for the homeless in the Rhein-Main area, donated by customers and handed over inside the REWE store in Schwalbach/Taunus. Here Kerstin Fritsch, board assistant (left) and Angelika Franke, board member of Luftfahrt ohne Grenzen/Wings of Help e.V. (LOG/WoH). Through the cooperation between REWE and LOG/WoH, 450 bags were raised for the needy.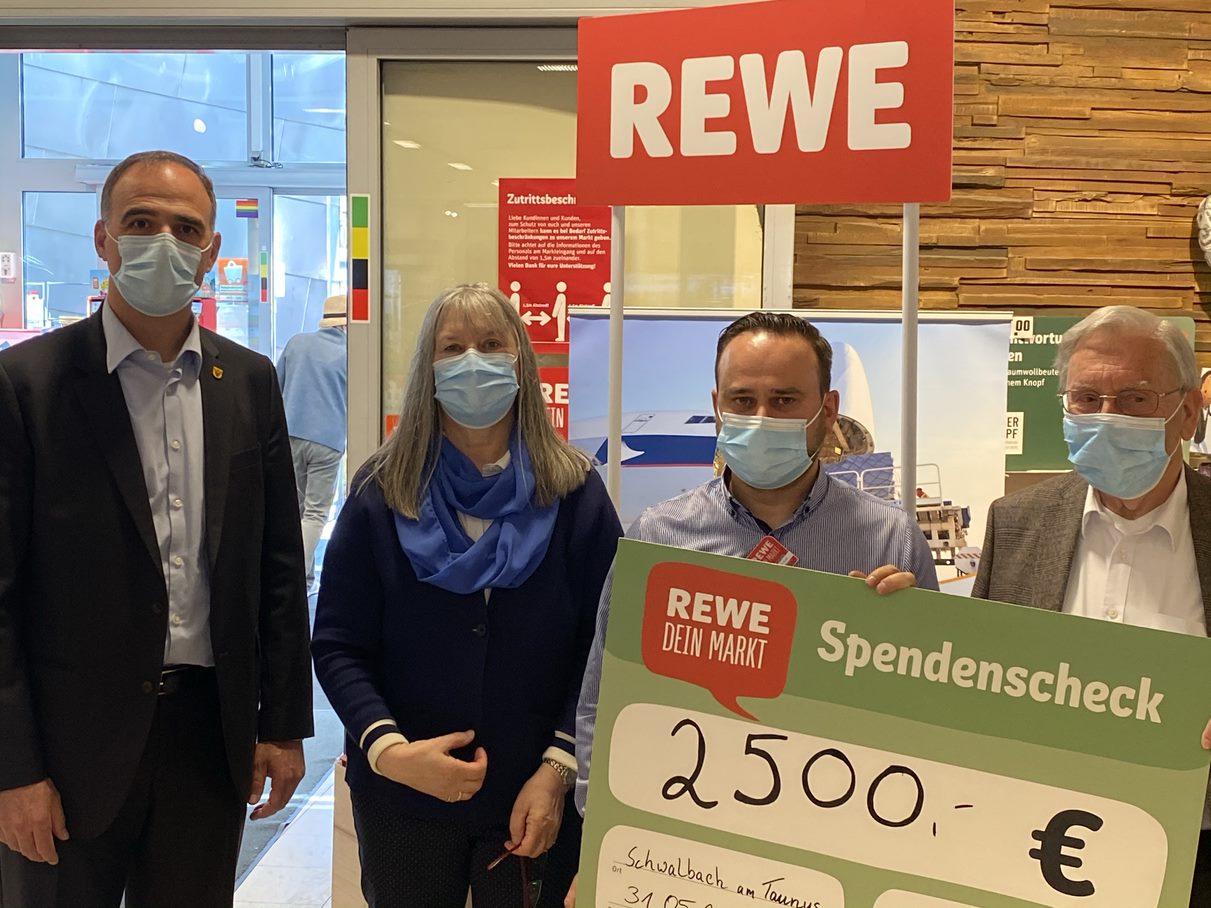 Handover of donations to Luftfahrt ohne Grenzen/Wings of Help (LOG/WoH) in the Rewe market in Schwalbach/Taunus: Schwalbach's mayor Alexander Immisch, LOG board member Angelika Franke, REWE store manager Shpenzim Dervishi and LOG CFO Rolf Geyer (from left).
Active commitment for people in the region 
Cooperation with REWE shows overwhelming acceptance
The REWE stores, with their nationwide presence, are increasingly involved in social and humanitarian projects and in 2021 have also acted in a very targeted manner on behalf of people in need. In a cooperation with Luftfahrt ohne Grenzen/Wings of Help e.V., both partners have collected donations in various markets: mainly via deposit vouchers that customers donate to charitable purposes in LOG-WoH collection boxes in the markets. The vouchers for returning empty drinks bottles have added up to a four-digit sum over the course of the months, which will benefit people in need in the Rhine-Main area with relief supplies for everyday life.
The REWE store in Schwalbach/Taunus organized a very special fundraiser: by actively addressing customers, the store gave away bags of hygiene items in return for a donation. At a stand at the entrance to the market, LOG/WoH drew attention to its work and goals. Within ten days, the partners gave 450 hygiene bagss with care items to REWE customers, who willingly donated. The bags went to facilities for the homeless in the Rhein-Main region, such as the Diakonie in Bensheim in the Bergstraße district in southern Hesse, which temporarily looks after around 70 people without a permanent home in a special house. REWE rounded up the donations collected in this way. Schwalbach's Mayor Alexander Immisch was also present when the check was handed over.
Anja Loewe, Corporate Communications/Public Affairs of the REWE Group and Head of the Central Region Press Office: "Sustainable action and social responsibility are an integral part of REWE's corporate philosophy. The REWE Region Mitte promotes and supports numerous social projects and institutions and is a pioneer in many charitable activities in the Hessian retail trade. Since 1996, REWE has also been one of the main supporters of more than 950 local food banks nationwide. We are all pleased to support local humanitarian actions in particular. This only works through the commitment of our employees, who show great social commitment."
Frank Franke, President of LOG/WoH:: "It was our first major campaign with a food wholesaler and we are delighted about the great interest that customers show in our work. The success of this cooperation encourages us all to continue and expand such campaigns, especially to show people in our immediate homeland: They are not left alone."
Our
Partners
No One Has Ever Become Poor by Giving.